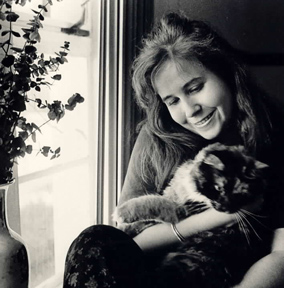 Meg Smith lives in Lowell, Mass. Her poetry has appeared in The Bridge Review, Pudding, The Café Review, Lunatic Chameleon, Pulse, Poetry Bay, Pegasus, Blue Violin, and others. Her poem, Huracán, first published in The Lowell Pearl, received an honorable mention from St. Martin's Press Year's Best Fantasy And Horror. She has published one book of poetry, The First Fire.

She is editor and publisher of Red Eft, an occasional journal of fantasy, horror and speculative literature. She works as a journalist and won a 2000 first-place award of the New England Press Association for coverage of racial and ethnic issues and for lifestyle writing.

As an Oriental dancer with the stage name, Morgana, she has performed in shows throughout New England, and is a staff writer for Jareeda, a trade magazine of Middle Eastern dance, and associate editor of Middle Eastern Dance in New England. Her Web site is http://www.poet-in-motion.com.


Copyright © 2004 Photo by david brow. ALL RIGHTS RESERVED.