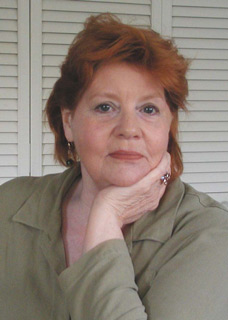 Pat Hegnauer has been an acting teacher, producer, actress and director. She founded and produced four theaters in Newport, RI, and was the Artistic Director at 2nd Story Theater for twenty years.
Presently she is a playwright and poet. Her plays have been produced in Providence, Warren, Bristol, and Newport, RI, and in New York City at The Raw Space, and Tribeca Theater. Staged readings have been performed at the University of Rhode Island, the Middleboro Arts Festival, Middleboro, MA, the Sandra Feinstein Gamm Theater, and Brown University Faculty Club in Providence, RI.
Her poems have been published in The Crone's Nest, Skywriters, Great Swamp Gazette, Scrivener's Pen, Utmost Christian Writers, Moondance, the Newport Review, and Rhode Island Roads Magazine. Her first Chapbook, A Few Uncompromised Letters, was recently published by the Premier Poets Chapbook series. She is now working on her first novel, The Kitchen Diary.


Copyright © 2004 Pat Hegnauer. ALL RIGHTS RESERVED.