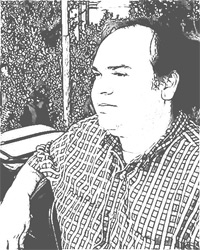 * * * * * * * * * * * * *
Luis was born in 1967 in Cuernavaca, Morelos (Mexico). He has lived in Los Angeles County since 1975 and works in the mental health field in LA. His first book of poetry, Raw Materials , was published in 2004 by Pygmy Forest Press. His broadside In the House of the Butterflies was published by The New American Imagist. Some of his poetry and artwork is featured in The Hold, Remark Poetry, and Thunder Sandwich. His three part Absent Husband series appears in rumble .
Grandiose Delusions

I'm sensible enough
not to go against
what you firmly believe.
You tell me with a straight
face you are Jesus Christ,
the Savior, and God.
One thing I have found
in these hospital visits,
no patient ever claims
to be a garbage man,
a sweatshop seamstress,
or a worthless bum.
I guess this is why they
call it grandiose
delusions. No one
wants to be poor or unknown.
Everyone wants to be
somebody, but themselves.


Copyright © 2007 Luis C. Berriozabal