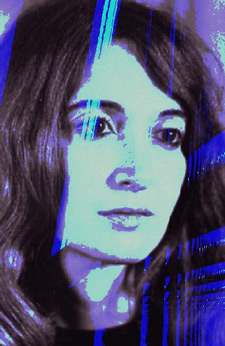 Lyn Lifshin's most recent prize-winning book, (Paterson poetry award),
BEFORE IT'S LIGHT, was published winter 1999-2000 by Black Sparrow press,
following their publication of COLD COMFORT in 1997. ANOTHER WOMAN WHO LOOKS LIKE ME will be published by Black Sparrow books published by David Godine in November 2003. (ORDER@GODINE.) Also, just published is A NEW FILM BY A WOMAN IN LOVE WITH THE DEAD, March Street Press. She has published more than 100 books of
poetry, including MARILYN MONROE , BLUE TATTOO, won awards for her non
fiction and edited 4 anthologies of women's writing including TANGLED VINES, ARIADNE'S THREAD, and LIPS UNSEALED. Her poems have appeared in most literary and poetry magazines and she is the subject of an award winning documentary film, LYN LIFSHIN: NOT MADE OF GLASS, available from Women Make Movies. Her poem, "No More Apologizing," has been called "among the most impressive documents of the women's poetry movement." An update to her Gale Research Projects Autobiographical series, "On The Outside, Lips, Blues, Blue Sheets" was published Spring 2003. She is working on a collection of poems about the famous, short lived beautiful race horse Ruffian and a new collection called THERE WERE DAYS, SO PERSEPHONE. For interviews, photographs, more bio material, reviews, interviews, prose, samples of work and more, her web site is www.lynlifshin.com.


Copyright © 2004 lyn lifshin. ALL RIGHTS RESERVED.