Biographical Sketch
David Lorenz Winston is a native of Philadelphia, where he resides and works as a photographer and computer artist. Winston's images have been exhibited in numerous one-person and group exhibits along the Eastern Seaboard of the US where he has received many first place and best of show awards. His work has been featured on many calendars published by Pomegranate Publications, Brown Trout Publishers and Hallmark. UNICEF, Borealis Press, The National Wildlife Federation, Recycled Paper Products, and Palm Press have published his photographs on holiday and special occasion cards. In addition, three posters of his winter landscapes were published by Bruce McGaw Graphics in 1999.
*More extensive information about David Lorenz Winston can be found on his website.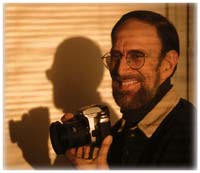 Artist's Statement
My imagery is about discovery. It takes me to places I have never been, places that free me from the pressures of a clock driven world, places that heal. I'm most excited when in tune with the underlying flow and energy of the ordinary. I seek to reveal the essence of a moment or place gone unnoticed. I love showing things in new ways, using the elements of surprise, mystery and playfulness, fused with design and movement.
Copyright © 2003 David Lorenz Winston
Featured Photography
Buggy in Fog
Man Walking
Cog Railroad
Hay Bedding
Harvesting
Harvest Time
Donkey & Crib
Huddle
Young Thrower
Father & Sons
Girl Wading
Childhood Winter
House in Tow
Car in Bodie
Ex Pier
Midnight Laundry
Nury & Truck
Elk Honcho
Summer Seating