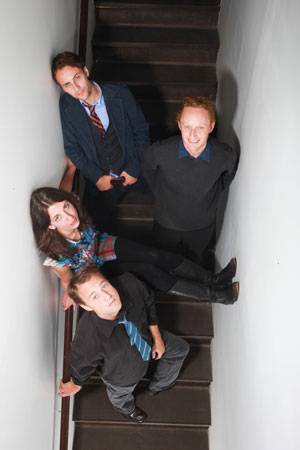 The Fugitives are the combined talents of Vancouver artists Adrian Glynn, Barbara Adler, Brendan McLeod, and Steve Charles. A group of multi-instrumentalists, songwriters, poets and novelists, each with their own burgeoning solo career, they've won individual accolades as diverse as the Canadian SLAM poetry championship, CBC poet laureate, and a place in the Peak performance songwriting series. But their primary focus lies in banding together to integrate their sensibilities into a dynamic mix of modern folk.
Formed four years ago on Vancouver's East Side, The Fugitives have trod their instruments and words numerous times through Canada and Europe Performances that began in abandoned bank vaults and small vegetarian restaurants in England have turned into mainstage appearances on the Canadian folk festival circuit and sold out headlining shows at venues as diverse as the Vienna Literary Festival, the Winnipeg Fringe Festival, the Vancouver Jazz Festival, and the Chutzpah Dance Festival.
Like most young bands The Fugitives have weathered poverty, missed trains, and a few line up changes (parting amicably with upcoming folk talents Mark Berube and CR Avery), while honing their live act into a versatile mix of story and song. As the CBC has it, "whether you go for the poetry, the music, or both, this show is simply brilliant."
The Fugitives last release, In Streetlight Communion, was nominated for a 2007 Canadian Folk Music Award for pushing the boundaries of contemporary folk music. They've returned with a five song EP, 'Find Me', to be followed by a full length release in March of 2010. Featuring orchestration by Veda Hille and production by Matthew Rogers, 'Find Me' will be supported this October by a tour across the country. Check for them in your town; their live act keeps on improving, and they've gotten much better at catching trains.
"A hypnotic and swirling mix of voice and music that straddles the line between traditional songwriting and poetry" – Vue Weekly (Edmonton)
"Wildly talented" - Georgia Straight (Vancouver)
"The Fugitives are capable of achieving dizzying, Arcade Fire-ish crescendos, replete with parallel melodies, complex harmonies and brimming torrents of emotion." – Uptown Magazine (Winnipeg)
"One of the best events we've ever had…right up there with Allen Ginsberg and Ken Kesey" – Executive Director, Dylan Thomas Festival (UK)
Flash music player here.

The Fugitives - Haunted

Copyright © 2009 The Fugitives
Additional Resources