Dear Reader,
This is the Spring Issue XV which was due to release March 2006, and here it is almost the end of April. Joan has been chomping at the bit pushing me to get this issue out because in her words, " I'm a stickler for promptness and good manners and I feel as if my finger nails are being ripped out if anyone is late." My poor poetry editor, my friend, my consolation, but there were circumstances beyond my control and time just slipped away. Apologies to all our contributors, readers who've inquired into Tryst's erratic schedule. We appreciate and thank you for your patience, and most of all, for the letters of concern from our friends. On the contents page is the work of John Gerber titled, "Free". The News Section has been updated. Thank you for reading our journals, enjoy. ~Tryst Editors
On a Technical Note:
Please note the navigation bar is on the left side, not embedded in the pages. In order to view the menu, you must "allow blocked content" especially for Internet Explorer if you get a message like this screenshot.
There is a time for everything:
a time to be born, and a time to die;
a time to heal; a time to break down
a time to weep, and a time to laugh;
a time to mourn, and a time to dance
~Ecclesiastes

Issue XV was supposed to have been a "humor" issue, something that neither Joan nor I had anticipated; the majority of submissions that we received just fell into that category so we were going to run with it. But as I started creating this issue, the less and less I became motivated. It took every ounce of will and everything I had to give to push myself to put together the issue.
You'll wonder, as I did for awhile, what was the conflict. April, May are difficult months for me. It was about this time when my sister, Amy, was going through a terrible turmoil in her life. She was trying to leave a hopeless marriage, she was frantic, depressed and worried about the safety of her two girls, then ten and eight years old. She lost a considerable amount of weight, and she'd burst out crying on the phone almost every day. Then two weeks before my oldest sister, K had planned to move Amy and her daughters to Ohio, Amy died in a horrific car accident, May 1, 1998. There was a time when I couldn't even bear to hear mention of her name. I felt like an open wound; I withdrew from everything and everyone.
But what I want to tell you is this, she was truly a kind and gentle soul, and she loved to laugh. She wasn't someone who wallowed in misery, but she had insurmountable troubles in her life. I used to say to myself that she wasn't meant for this world, and now I realize what a misguided view that was. No, Amy was as much a part of this world as the next. What pushed me to do this issue, I had to do it. Art is an act of self preservation, and self preservation is the ability to love someone so much that you learn how to appreciate the joys as much as the sadness, and then you let go. She would have loved Tryst. She was my best friend.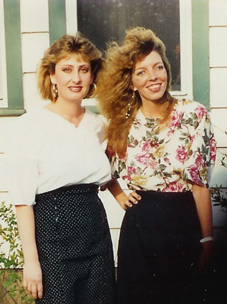 On that note, this issue with its whimsical, sometimes dark, humorous outlook on life is dedicated to Amy and to Melanie McConnell. Melanie McConnell died March 3, 2006; she was very ill. Those who knew Melanie, and even those who didn't, her work can be found on Tryst and various online zines. She had a wonderful, spirited sense of humor. Again, I'd like to thank all the contributors in this issue who made possible "a time for everything." And thank you, Melanie for all your kind words, for making me laugh, we shall miss you. ~Mia