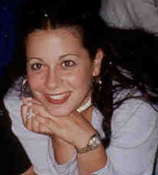 Cami Zinzi is a 28 year old high school English teacher in Dobbs Ferry,
New York who has been teaching for six years. She received a BA in
English Literature with a minor in Women's Studies from Fordham
University, Bronx, NY in 1998, and received a Masters in Teaching
Secondary English from Fordham University, NY, NY in 2003.
Currently, Cami is taking an advanced poetry workshop at Sarah
Lawrence College in Bronxville, NY. She has just recently started
submitting her work, but has not yet been published.