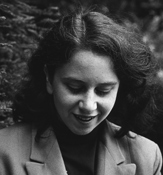 Lynn Strongin is an American poet living in Canada. She has seven
published books; work in about fifty journals, and thirty anthologies.
Among journals in which her poetry has appeared are Poetry,
Shenandoah, Southern Humanities Review, StorySouth, The
Drunken Boat, New Works Review and the audio version of Avatar.
The last four journals are on-line.

Anthologies in which poetry appears are Rising Tides, The Ardis
Anthology of New American Poetry, Sisterhood is Powerful, No More
Masks and Poets Against the War. Recently, her anthology, The Sorrow
Psalm: A Book of Twentieth Century Elegy was accepted by the University
of Iowa Press for publication slated for Spring, 2006. More about Lynn
is available on her Website.