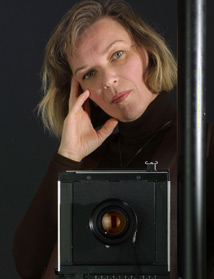 (Gallery Best Viewed in Full Screen Mode: F11, View-->Full Screen)

Victoria Perelet
Victoria's PhotoGraphic's
109 Goose Alley
Urbana, IL, 61801
217-328-3013
Victoria@victoriasphoto.com
VictoriasPhotos.com
Born in Russia 1969. I started photography early, taking photos and developing/printing b/w with my father. Educated at Moscow University. Commercial career: catalogue/magazine work for mainstream fashion designers, mass market, fashion etc - work that polished my technical skills, but was somehow dull.
In 1990 I moved to the US. I opened my own studio and migrated from mainstream fashion towards alternative fashion – gothic, punk etc – that part of the fashion world considered underground and is given very little attention. Snapshots with no lighting were often considered good enough. But stepping into this new world opened new and interesting opportunities. It was a fresh and exciting environment with very creative designers and vivid models. Mainstream audiences slowly started to accept alternative as competitive and I'm proud that my contributions helped.
Product and macro photography were always my escapes from everyday life. I work with few jewelery and glass designers and enjoy the isolation of every assignment. Compared to the fast, noisy and exciting environment of fashion, product photography gives me more setup time in a quiet studio.