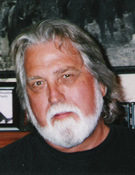 Allen Itz is a native South Texan and a retired public services administrator. He
returned to writing several years ago, an activity he had set aside almost 30 ago
due to career and family. Since he has returned to writing, his poems have
appeared in Planet Magazine as well as other on and off line publications,
including Niederngasse, The Melic Review, The Muse Apprentice, Alchemy,
The ShallowEnd, AvantGarde Times The Poet's Canvas, Dynamic Patterns,
Eclectica, The Green Tricycle, Nectarzine, Experimentia, , The Horsethief's Review, Maelstrom, Tryst, Taj Mahal Review, Blaze/VOX, Beatnik, Liquid Muse and others.
Allen's new book, "
seven beats a second
" is expected to be available for sale
by July. "seven beats a second" is approximately 150 pages of poetry and full
color art prepared in collaboration with artist Vincent Martinez.