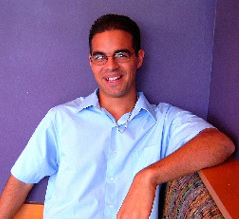 My name is Jonathan Santiago. I am 25 and have been writing poetry since my early teens. I was a native of Bronx, New York, but I currently reside in Bradenton, Florida with my wife and various pets. I take my work very seriously and hope to share my work with as many people as possible. For me, poetry has been that part of life that is everywhere from advertising to music. Unfortunately, its written foundation is still not taken seriously enough to garner social importance. With my work, it is my hope to show people that poetry will never just fade away.
Urban Development
I hoped you would call
to tell me how
the January winds of Prague
failed to warm your Harlem skin
and how the disgruntled commies
could not get you to share a penny,
or two whores from Amsterdam...
whose eyes propositioned you newlywed
lovers - you, who grabbed the urge to leave
our rotting fields of grain.
In what language can we speak now?
We sent each other songs
yet, our tongues still recoiled
for our fingers were the bearers
of bad news, the purple mountains
have been neglected.
I forgot to tell you
how I want to fuck the stars
but, being a poet, opt
to cuddle their dying light.
Did I mention how I have hoped?

Kurtis....they are cutting...
they are cutting...
they are cutting...
the trees.

The Sad Victories
And on that day, I will
touch the clouds to reclaim
the validity of magic.
Imagine my relief
at the sight of just
one set of smoke stacks
and how herons proclaim
their presence upon the chain
link fences.
Imagine the surprise
of my urban eyes
when I stumbled
upon the fact:
there is more than one
kind of palm.
And on that day,
I spoke with hornets
and touched on how brilliantly
a tourniquet and a rainbow
can constrict the same
moment into revelation:
that sometimes the blink of an eye,
or a drive south on the I-75 is all
that we may ever really have.