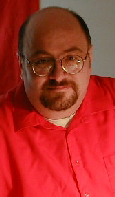 W.T. Pfefferle has published his fiction and poetry widely in North American Review, Carolina Quarterly, Mississippi Review, Ohio Review and elsewhere. His new book is The Poetry of Place, a travel memoir / anthology of interviews and photographs of 60 American poets (including Mark Strand, Rita Dove, Charles Wright, etc.). My book Poets on Place will be published in Spring 2005 by Utah State University Press. It was the result of an 8 month trip around America that Pfefferle and his wife made in a 29' Winnebago.

Dream of the White Dog
I had exhausted all of the possibilities.
I stepped in pools of rain
and as I crossed the street
a white dog began to follow.
Three trees ripple softly
in breeze and water.
Puddles around the base.
The dog comes right to the door,
and we key it open,
heat rushing us.
On TV we watch
the entire expanse of the India coast.
I sit down in the soft chair
by the window
and the dog finds purchase on a rug.
During the coldest night of the year
I decided that things would be better.
I reached down for the dog once
but he had gone.