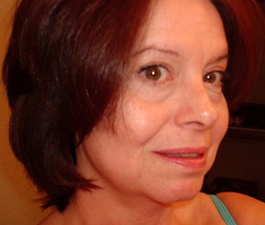 Patti Marshock is a nurse at the Mayo Clinic in Phoenix, Arizona, specializing in work with cancer patients. She has published poetry in the online journals Disquieting Muses Review, 2River View and Ludlow Press Poetry¸ and in the anthology The Cancer Poetry Project (Fairview Press).
Let's Pretend We Know

Let's pretend we know
what is that lives in
the furry tangled undergrowth
of a lion's belly.
We
can stop its winding
evolutions
around the
eaves of the earth,
lose the bobby pins
we made up
the names of the star,
that skitters behind
Orion's belt
Let's get all the why's
down pat and just keep
it to ourselves til
tomorrow morning.

Ghazal (for Mariam and Me)
Trouble lies in an affair on the phone.
My response is laissez-faire to the phone.
I note the display; shift at its fanfare.
I don't let on I'm aware of the phone.
The postman endures telescopic stares
but I, casual, don't care for the phone.
But when I'm alone, I dart, shoulders square,
fingernails flashing, past chairs to the phone.
I coat my tones with honeyed wine, prepared
for my own darling's voice there on the phone.
When I do the dialing, I exhale air
with a professional flair on the phone.
My hand hovers with a moment to spare
just in case Patti does snare up the phone.