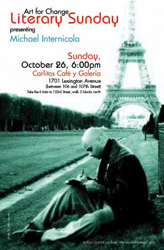 A novelist, M.A. Internicola is the author of three previous novels,
KISS ME BABY, SUNFLOWERS!, CHAZ, and ALL OUR SKIES ARE BLUE. The poems included here are from two separate poetry books, MALISM and THE DARKEST PLACE IS UNDER A STREETLIGHT, both completed early 2004. His poems, prose and fiction have appeared or are forthcoming in Caffeine Magazine, Zygote In My Coffee, Remark, Ragged Edge,The Quadrangle, Mule, Spent Meat, The-Hold, Antipatico, Lunaitic Chameleon, Kant Magazine, East Village Poetry, Fragment Magazine, The Surface, The God Particle, Thieves Jargon, Smokebox, James River Poetry Review and The Mosquito Lounge Review. He lives in New York City.
Getting Fired
i've been fired from almost every job i
ever had. it's always the same. you can
feel it coming. the manager is usually
a prick. the owner doesn't talk to anyone.
you know it's not your fault. you're just
in another spot where you weren't supposed
to be in the first place. they make the biggest
production about it, as if they're taking
everything from you. sometimes i just
don't show up and they never call to see
if something happened. they just forget
about you and get a replacement. some pull the
rug out from underneath you unexpectedly.
those ones kill because that's usually the time
when rent is due. some take the time to tell
you you're a good person but you just didn't
work out. i've never been let down nicely
or laid off with a package. i've never had a
good job like that. those probably feel like
breaking up with somebody. getting fired is
what happens when you have something
better in your life than just paying the rent.
it means you're supposed to be doing something
else. i feel sorry for the people who just stick
with it miserable. you spend more time with
these folks than you do the people you care
about. love what you do. paying your dues is
something else. otherwise, it's the biggest
fucking waste of time on the planet.

Mr. Campbell
"in the logical sense of the word you are an artist."-
he told me, "you are very rare and being with an artist
is a very difficult thing. it's a human being thing. they
have tremendous short comings. road blocks to everything
they do but they have to have that. everything is a
paragraph. everything is a chapter for a writer. in
your case you need a woman who understands this.
she's creative. another artist or maybe not but she must
possess the understanding part. that's most important.
an individual with whom you trust completely. you have
to be very selective in who you get close to. she has to
read your work and be amazed and give you the leeway
to live the kind of life your gonna live. no warm bodies.
problem is a woman changes at a certain age. they want
the security of a nice place. money to live the lifestyle.
in time you may very well have the big house but there
is a chance this will never happen. she should be good
with this. her belief in what your doing will have to be
good enough and she may not be the prettiest one
either because that's all bullshit. this kind of woman
will give you the mark and what you provide for her
will be the most deserving thing she could ever imagine
feasting her heart on. you got it. now take it and use it."

Diet Sprite
i'd write next to her doing a crossword puzzle. we've run out of toilet paper
again and there's a cockroach the size of a cork busting ass across the floor.
she's complaining about me being there again. it's friday night and she's
going to see kid rock on a pretend double date. single digits outside and
snow everywhere. it's just fiction i tell myself. all of it's just as true as i tell her.
she's wearing leather pants and she looks sexy and she won't let me buy
her a diet sprite, even when she's sick. i feel like a dog at the pound about to
be put to sleep.
"see ya later."-she says.
"bye"-i answer.
and i write that down. i stare at the television set and roller blades
i'll be leaving behind. i wait up for her until i give up trying. it's her turn
to be the dick now.
Everything I said to You
my life will always be different.
i'll split with my chick and never
see her again, never a charity
fuck or a conversation. other guys
will speak to them, fuck them,
get them pregnant and have worse off problems.
the element of hate is always running a close
second to love.
two people in love
with the pillow talk, with the first time,
with the first and last trip to mexico
and then it begins to wiggle
out of place and without much warning
you've got your balls in your drink in place of
ice cubes and you can't remember mexico
or if you've ever even been. you want to
call girls from years ago that wanted to fuck you
but they got better lays now. it goes on like that forever, i think.
so different. one goes from two hundred dollar steak dinners
with the wine and big tip to a bowl of barilla pasta with cold ragu
on a friday night listening to the radio and drinking a glass of water
waiting for your buddy to come round seven--eight
coked out of his brains just to have some company
but by then you threw the towel in and you know
it's just the way it is when you're a man.

Pattaya

i sit in the dark. stare at myself in
the mirror smoking a short one. the mini
bar is full. i fucked the same honey two
nights in a row. i shit out the 89 bhat
all you can eat. i vomit after that. i
really do and the rubber broke again.
i only gave her 600. i can't shake the
dirtiness off my body. it's insurmountable.
there are thousands of reasons why i
need a new love but i can't think of any from
here. there's too much action outside. shit
loads of whores working the beer gardens for
10 to 20 dollars fucks. my honey's got a
little girl who asked me what happened to
my hair. i tell her the wind blew it off.
my head is pink and peeling. i'm almost
showing brain or i'm turning into an alien.
the girls call me king kong because i'm
hairy. i sit in the dark and stare at
my face. i have no funds at all. i
can't keep a job for shit and honey left
her roses in a glass of water. that's
the only pretty thing in the room. hi five
hotel in pattaya, thailand. fuck
new york. fuck it's cold and hipster
fuck crowd. fuck fake poets and actors
and other writers. fuck the good girl in
a bad spot. fuck the 21 year old
jibby screwed into the ground. fuck the
way your looking at me. fuck asking her
if she's tired during sex. she'll only tell me she's
the champion and want it all night long instead.