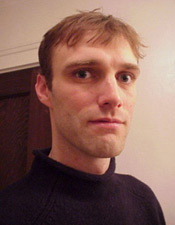 James Grinwis has a book length feature of poetry in the magazine Skidrow Penthouse (#5). Individual poems have appeared or are forthcoming in Gettysburg Review, The Literary Review, Colorado Review, Conduit, Hayden's Ferry Review, Born, Web Conjuctions, and others. He currently lives in Amherst, MA.

A New Alchemy


He goes off in search of something
worth mentioning. He leafs
through the road atlas. His dirt-mobile
has ground to a halt. It's okay, he's
an alchemist, things eventually
go right for him. The papyrus shavings,
standing on their heads all weekend,
all evening, and through the tournament,
speak wisdoms concerning the undulations
of the breeze and the effectiveness
of killing fleas by cracking them with forks.
The canteen of cranberry juice
has already dried up, and the seats
begun to melt, so that soon there will be no
interior to anything, the vehicle assuming
a mirror to an exclusive, oblique world.
Only the exterior holds any truth whatsoever.
He left the dirt-mobile where it stalled,
and altered the nature of his search
to address concerns for better health.
When the ingredients in the bones recede
like the nostalgia of crows, restaurants
unfurl their awnings, rain or shine.
Hot tub wholesalers, scratchy fabric companies,
they had all clambered for the secrets
locked in the vault of his head.
He wandered out into the world.


*
This is what they said: to seek to know
the ultimate truth of the situation
is a hideous flop into slime.
Don't need to know, need to relax.
In the engine of his brain
the undulant monster shone.
Backbone. Hot new work
of dubious origin. Unknowing of the list.
Emergent of the space bee. Slow drive
through blank. Beg forgiveness.
See where this goes. What is theme.
To relax and grow amazingly dim.
To relax and give nothing.
The alchemist walked quite far that day.


*
He left his vehicle in the left corner
of his mind which was generally open
to all concerns. Deep breathe.
To not see past what's she's thinking.
He's both tall and short. A solo beyond.
His eyes are like ears. He must work
on certain things, thread them through
starry hooks. The barb is a sting-bladder.
The barb is like a sting and clearly not
a knot of grass mingled with yellow seeds.
To be a knot. To harness the air
and plant the seed with a series
of quick thrusts. Phalanx of the in.
Carpenter ant, bring me a basket
to drown in. To not be tired.
To try whichever. A very small face
on a long thin pole.


*
Fovea. Macula. Dry forms and wet
destructions of the eye. Dry takes many years,
vision only partially destroyed. Wet
can be treated with lasers. The alchemist
hurried along the road on which he had stalled
inside the origination of his eye.
Other degenerative imps
curled through formulas meant
to make gold. This isn't a plan
or anything to start from. Hundreds of new charms
to choose from. A blurring together of trees
and of dirt. Places get more and more trapped
than closed. It's not dark there anymore;
it's a gradual, lengthening strand
like the scrape of an ice pick on hair gel.
Need to fix the end. All the time
picking up sticks. Fleas strike
slantwise. All the spaces in all of the games.
He brought his theme to the restaurant
and squirmed among all five of us
in our small microcosm of the game.
Degrees of freedom and sex-drive:
when you pick up the phone,
to which ear does it hold?